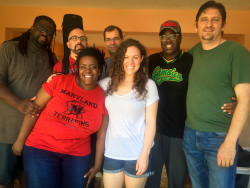 Building Your Band is pleased to offer workshops taught by several of the expert guests from our podcast.
Crafted To Fit Your Unique Setting
We will work with you to develop the schedule and sessions for a workshop perfectly suited to your unique setting. We provide the musical expertise and specialization, while you host and administrate the workshop at your location in the way that works best for your community. You may choose to host a workshop for just your worship team, or host a workshop in cooperation with neighboring churches. A class size of around 4-8 persons is ideal for each instrument/area, and it works out well if numbers are evenly matched across instruments so complete bands can be created from the pool of musicians. One suggestion would be to have identified bands go through the workshop as a band.
Our Approach/Philosophy
Master classes will focus on the generic capabilities of musicians. While there are similarities that all musicians should master, we begin with plenary sessions where we discuss how the instruments are different and have different roles to fill. This is the secret sauce to our workshops and informs everything that happens thereafter. We proceed to pair instruments so each understand how they must cooperate with their counterpart. This knowledge of roles informs our master classes, and makes recombining instruments into bands a much more graceful process. A tenant of every Building Your Band workshop is Less is More, and we spent significant time focussed on listening and creating space. We really don't believe you need more proficient musicians to sound better – rather you need better producing and arranging.
Types of Sessions Offered
We offer two kinds of sessions: Core and Elective.
Core Sessions include: guitar, keyboard (we can accommodate classically trained & ear trained), bass, drum kit, percussion kit, frontman, backing vocals, and last but not least, sound tech.
Elective Sessions include breakouts for producing, solo instruments, songwriting, poetry slam, music theory, audio theory, graphics and stage design.
Participant Requirements
A personal instrument and basic playing ability is required for all musicians (laptop with Adobe Creative cloud is required for graphics class). While we will review theory and are happy to address questions as they come along, a basic working/playing knowledge of chords, keys and scales is required so we can hit the ground running. Veteran musicians are welcomed by our instructors and will be especially appreciated for their willingness to assist and mentor others in their group.
Investment
Everything we do is set up to operate in the most cost-effective way possible. Allowing you to host a workshop at your location reduces overhead costs, and also allows you to use volunteers to support the hosting overhead of a workshop. Flying a handful of your people out to a conference concentrates knowledge in a few persons and may not build a team or get your whole band on the same sheet of music. Our thinking is that it is much more cost effective to bring in a group of specialists to your location so your entire band can benefit from the teaching, and you can learn on your equipment and in your familiar space.
Costs for a typical workshop incorporating only Core sessions can be $3500 per day, and can extend to $5500 to include elective sessions, plus travel fees. These costs can be effectively offset by your worship team members with a fee much less than would typically be required to attend a worship conference.
To discuss configuration of a workshop for your team, please contact us for a consultation.