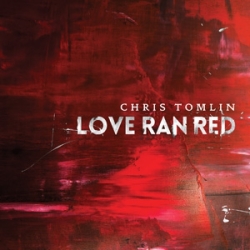 Here are my production notes for translating Chris Tomlin's (Amazon | iTunes) Love Ran Red to a live Band.
This is a piano record. I would personally enjoy playing songs from this album, partially because it uses so much piano (and that's my first love), and partially because it comes across as a movie score (which is how I like to think about music).
There is room for your classical-pianist and your keyboardist-pianist, as well as your synth/programming guy on different songs, so be intentional about booking the right person for the right song (or call me up). There are lots of different piano sounds on this record that you'll want to be aware of. There's a standard Steinway or Yamaha grand, a more muted grand with the highs rolled off at the board, a compressed acoustic piano (Michael English's Finally Free being a particularly egregious example of a compressed piano), and a plain-Jane keyboard-piano.
There are also plucked sounds on this record that could be covered by acoustic guitar, but I'm not sure they were originally acoustic guitar on the record (if so they've been highly produced), so they could also be covered by a keyboard or programmed.
The electric guitars are actually pretty understated on this record – standard U2/Edge delayed guitar – but one could elect to mix the guitars up to create gutsier renditions.
Lots of cinematic toms are present, which I personally love, but they require some special preparation from your sound engineer to get them sounding big and awesome.
There are some EDM influences, like four-on-the-floor kick, synth appreciators, and filter sweeps not usually found coming out of Nashville (maybe some Crowder influence?)
---
Greater
These opening lines are right out of a Hans Zimmer score, so you'll need your gorgeous string pads handy to not waste this moment. Maybe you'd want to consider doubling the intro. You'll want your synth guru booked for this day.
Programmed synth bass would be cool, but a decent live player can do this.
This song has some of those plucked sounds on the first verse that could be covered by acoustic guitar or a 2nd keyboard guy.
A modern piano/keyboard sound with some delay on it plays the thematic element on verse 2, or this could be covered quite nicely by some delayed guitar and simply layered with some acoustic piano (the latter being my preference).
Make sure you have your guy who loves playing toms booked for this day.
Starting at the 2nd chorus, you'll want a few additional harmony vocals to join.
If you have an old school choir at your disposal, have them waiting in the wings and enter Fortissimo at the bridge, and then again echoing the bridge part over the final chorus. This is what the kids call "epic".
How to get this right: let it be relaxed, sweeping, even cinematic.
How to get this wrong: overplay it.
---
Waterfall
Opens with electric piano and quickly gets into EDM synth dance sounds, so you'll need to be playing to a click track to keep the arpeggiators in sync. Season with filter sweeps.
Acoustic piano on chorus is compressed (ask your sound tech do to this) and should be played live by someone with strong (classically trained?) hands. I can see a case for two keyboardists this day, one on the grand, another doing the synth work. Pads on verse 2 can be string pads or synthier square waves.
On that note, think about having another vocalist that sounds like you to do sound of the random overdubs. There's room for a little extra vocal goodness if they want to run with it a little.
Make sure you have your guy who loves playing toms booked this day.
How to get this right: preproduction, keep it tight.
How to get this wrong: fail to give it enough rehearsal time and it'll fall apart.
---
At the Cross (Love Ran Red)
Use compressed piano with some delay on it.
Plucked sounds could be covered by acoustic guitar or a 2nd keyboard guy.
Bring all your vocalists online for the bridge.
It's OK to build to a wall of sound on this one 😉
How to get this right: keep it relaxed, create some space.
How to get this wrong: rush the kick.
---
Jesus Loves me
I would probably play this ballad on the house grand, even though it sounds more like a sample on this recording.
Electric guitar can cover the quiet tremolo pads, and all other tasteful / big / ambient parts.
Piano and Drums propel this one.
How to get this right: be passionate.
How to get this wrong: let it drag.
---
Boundary Lines
Your sound tech is definitely going to need to listen to this recording. You'll need a second vocal mic for the intro vocal that has the highs and lows rolled off to sound lofi, run through a tap delay, and then your sound guy will play the low-pass filter live and open that up.
Book your synth/keyboard person who knows what filter sweeps are. They'll also have access to vintage Rhodes sounds and compressed pianos, besides all the warm pads and undulating sounds.
Everything should happen to a click track so the band stays tight and in sync. You'll probably want all those 16th note delayed claps to be programmed ahead of time and a nice click going to the drummer.
Ask the drummer if they want to play the tambourine or have that programmed.
Program the hand clap on 2 & 4 and four on the floor kick.
Play the toms, snares, fills, live and wail on that hi-hat like any good EDM song does.
More of that plucked stuff that could be played by a 2nd keyboardist or acoustic guitarist.
How to get this right: preproduction!
How to get this wrong: expect a live version to come together quickly.
---
Almighty
This song is one of those sit-on-a-stool-with-a-spotlight solo tunes, at least to start. Not too much rocket science here, even though it feels a little complicated. Eventually it builds with lots of vocals on the chorus.
A nice classic Yamaha or Steinway grand anchors this song. I love the bridge that drops back to solo piano. Whomever you give this solo to will thank you.
For the signature figure that seems to go through a 5/4 measure followed by a 3/4 measure, don't count it that way – just play straight through with a 4/4 count.
More of those wonderful U2 guitars on the chorus.
There might be room for a second keyboardist to do some pads on this, just don't overdo it.
How to get this right: tight transitions.
How to get this wrong: telegraph your transitions (with fills) or not choking your cymbals.
---
The Roar
There are nice pads and compressed piano on this one.
Four on the floor kick, but play it live.
Crazy backing vocal on the chorus! Never fear, the electric guitar can cover this.
Nice half-time feel on the bridge. You booked your choir for this right??
How to get this right: 16th note hi-hats keeps the momentum.
How to get this wrong: That'd be pretty hard.
---
Fear Not
The intro is a lo fi variant of the chorus. I don't think it's critical to try to sound like the record. Maybe have a 2nd mic tuned up to sound like a megaphone…or use a megaphone!
Mechanically, this song is straightforward. One guitar playing the arpeggios, and another something – could be guitar could be keyboard – holding down the chord. Add that and solid drums.
How to get this right: Bring in your youth and kids choir to yell out the bridge!
How to get this wrong: Fail to drive the song with all those 16th note hi-hats, or hold back even a little.
---
The Table
Grand piano, electric guitar doodling, nice drum groove. This song just comes together.
You may or may not want to go up a step after the bridge, especially if you're shaky and may not nail it a capella. Either way this is another one where you want your choir coming in at the bridge.
How to get this right: Get everyone snapping on two and four before you start the song.
How to get this wrong: If you're not having fun, you're doing it wrong. It's a celebration. It's about community. It's about relationships: vertical and horizontal.
---
Psalm 100
It's cool to see some of that EDM influence. You'll be playing to a click, but a tight live drummer should be able to cover all the drums parts. Live bass is the way to go. Straightforward Edge electric guitars.
In fact, you may be able to play this entire tune live with your synth guy running arpeggiators, as long as you're playing to a click. If they want to program it, that's cool too.
The piano arpeggiation on the bridge would sound pretty awesome if it can be played tight on a grand. Better be practicing your Hanon for the finger strength.
P.S. Those are some great mellotron strings at the end!
How to get this right: Preproduction!
How to get this wrong: not play to a click track.
---
I Will Boast
This is a beautiful rubato grand piano song.
If you have some live strings, violas, cellos, this is the time to let them sing out. Some of this could be augmented by keyboard pads, or covered by mellotron-type samples.
There are some tasteful guitars, but I'm not sure you even need 'em – give your strings a chance to shine!
There are some really nice harmony vocals in a few spots. The whole tune might be really nicely reconfigured as a male-female duet.
Ends with Rhodes electric piano, which I don't get the point of, other than to facilitate a transition to a coda of "At the Cross".  I would label this an album artifact and ignore it live by sticking to just the piano and ending the song, particularly unless you actually did "At the Cross" earlier in your service.
How to get this right: Have a gorgeous well-mic'd, well-tuned, grand piano.
How to get this wrong: Rush it.
---
Jesus, This is You
This is the guitar song on the record. It sounds like it's from a recent U2 album.
Keyboards – use atmospherics – maybe some keyboard / piano / melodic-chime sounds, but don't get in the way of what your particular guitarist is doing. This is a guitar song – listen!
There is room for lots of vocals on this. The choir can possibly come out for this. Let it build to a wall of sound. Maybe add an extra chorus.
How to get this right: Book The Edge (U2) to play guitars and sing that thematic part for you.
How to get this wrong: Let it get too big / full / muddy / wall of sound (looking your way, keys).
---
In the End
A neat little rhythmic device opens this tune on the riff. That could come from a keyboard guy (arpeggiator?) or a guitar guy (acoustic guitar with delay?). Since there is already a piano part, I would look to your electric guitarist to pick up an acoustic and run it through a delay.
The piano part would probably be a modern piano keyboard sound, not necessarily a grand. Be ready to layer a nice big atmospheric pad like Absynth.
Also that's a pretty cool compressed drum loop on the second chorus, so you're playing tight to a click, right?
Kick and a couple toms build at the Bridge. The drum kit is finally in after the bridge. It's called building tension!
How to get this right: Rehearse.
How to get this wrong: Think this song will magically come together.
---
REMIXes
I really love that they are offering these. It shows the songwriting can stand up to reinterpretation.
---
Waterfall Tritonal Remix
I don't know that I'd attempt this version live, but if you can it's got lots of nice production. Vocoder on the harmonies anyone?
The programmed synth and snare stuff are epic. You can probably do a hybrid with the regular version and whatever synthy stuff you can come up with.
How to get this right: preproduction.
How to get this wrong: fail to integrate live sounds well with the programmed sounds.
---
At the Cross (Love Ran Red) [Acoustic]
This song utilizes picked acoustic guitar, and very minimal warm pad on the first verse.
If you have a second acoustic guitar that can pick, there is room for some tasteful layered harmonies starting at the chorus.
Use kick and shaker on the second verse. I would probably replace with a mic'd Djembe and shaker (and tambourine) instead, as I think a drum kit is too big for this.
Some gentle well-mic'd grand piano comes in at the second chorus.
How to get this right: show restraint, be tasteful.
How to get this wrong: overplay.
---
Let It Be Jesus [Acoustic]
This is an acoustic piano ballad.
There is a little extra acoustic guitar in the recording that I don't know I would want in right away. Maybe hold off until the chorus when the tempo gets established. That way the instrumentation stays tight.
I get the piano dropping out on the second verse and switching to acoustic guitar before bringing the piano back in. We need that sonic break.
Personally I think this would sound so much more epic with some solo string lines. Somebody score something for this!
How to get this right: restraint.
How to get this wrong: let it get too big.
---
Do you hear things differently? Anything I missed? Leave a comment below!