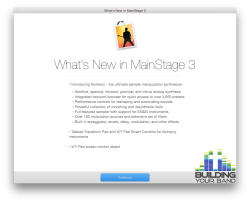 As a keyboardist and Apple aficionado who follows the likes of Gruber, Marco and Dalrymple, the acquisition of the soft synth, Alchemy, by Apple last year, and its recent re-release in Logic and MainStage, presents a unique opportunity to look at exactly what Apple has done with this acquisition. The improvements in design and functionality are what you might hope for from Apple. But it's the reason for the acquisition that is perhaps the most interesting. Apple has a huge piggy bank; they rarely use it for acquisition. That they did use it must signal something strategic.
---
Background
Camel Audio announced their store was closed on Jan 7th of this year (2015). Dalrymple posted about this back in the day and called it a good move (don't miss the speculations in the comments!). Camel Audio maintained customer support until July 7, 2015, and customers were encouraged to download the latest versions of the software and backup their data. Which I did. Twice. Today camelaudio.com doesn't resolve and they've even deleted their youtube channel.
GarageBand, essentially a consumer grade Digital Audio Workstation (DAW), introduced the idea of a softsynth, i.e. "software synth" or "virtual instrument", to the masses with minimal fanfare. Before GarageBand, softsynths, which first debuted in 1999, were reserved for professional or prosumer musicians who used them to add to their sonic pallet inside of a host DAW (like the big three: Cakewalk, Cubase, or Logic). Using softsynths greatly reduced the complexity of tracking keyboard parts in a MIDI sequencer DAW. Doing everything inside the computer means there is no gain structure to manage and no loss of fidelity. Audio can stay in the digital domain and be processed with 32bit fidelity to minimize rounding errors.  Softsynths were also cost effective, as you didn't need to re-buy hardware. Eventually that sonic pallet became attractive to live gigging, although the threat of a crash and reboot always loomed large. With the creation of MainStage (at just $30), a lightweight host for softsynths specifically created for live environments, softsynths became a staple of modern keyboard gigging.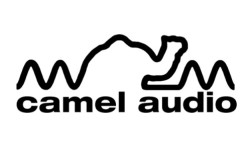 One of those softsynths that I considered a secret weapon both live and in my studio was "Alchemy" by Camel Audio. It was relatively light on the CPU, but strong on evocative sound. Producer, DJ, Technologist, and "Father of Trance" BT described it as "… the best synth I have ever used in my entire life. Hard or soft synth, the most elegant, animated, beautiful, evocative synthesizer ever made." That's no small praise. BT is Berkley trained, has conducted live orchestras, and since then even produced his own software plugin based on his "stutter edit" style – so that is not a resource-constrained compliment. Alchemy is world class.
A point of clarification- Mac Observer reported that "Apple Adds Alchemy Synthesizer Support to Logic Pro X," but this isn't quite correct. Logic, as well as many other DAWs, could already host any range of softsynths, to include Alchemy via a plugin standard called VST or AU. For example, Cubase made a point of explaining how Alchemy integrated back in the day. With Apple's acquisition, everyone else actually lost access to Alchemy because Apple has not released it as a standalone product on the VST or AU standards. Instead, it is now locked away inside Apple products. I initially looked at this acquisition and its significance through the lens of MainStage, but the more I've thought about it, this might be more of a move for Logic. But before we get into all that, let's talk about Alchemy.
---
Intro to Alchemy Softsynth
Below is what the most updated version of Alchemy looked like before Camel Audio shut off the lights, and is what Apple received (plus whatever else Camel Audio had cooking in the back room).
Instead of employing DRM (which often impacts usability) to protect their software, Camel Audio took a different tack and baked the user's name right into the owner's version of the software. The owner's name is shown in two places, once under the logotype "Alchemy," and the second upon startup in the "LED panel" in the center. In fact, when you first run the synth, this LED panel displays not only your name, but your phone number and address – basically all your support information. I imagine this did a pretty good job of dissuading folks from sharing their personal copy of the synth without saddling honest users with flaky authentication, an approach which strikes me as Apple-ey.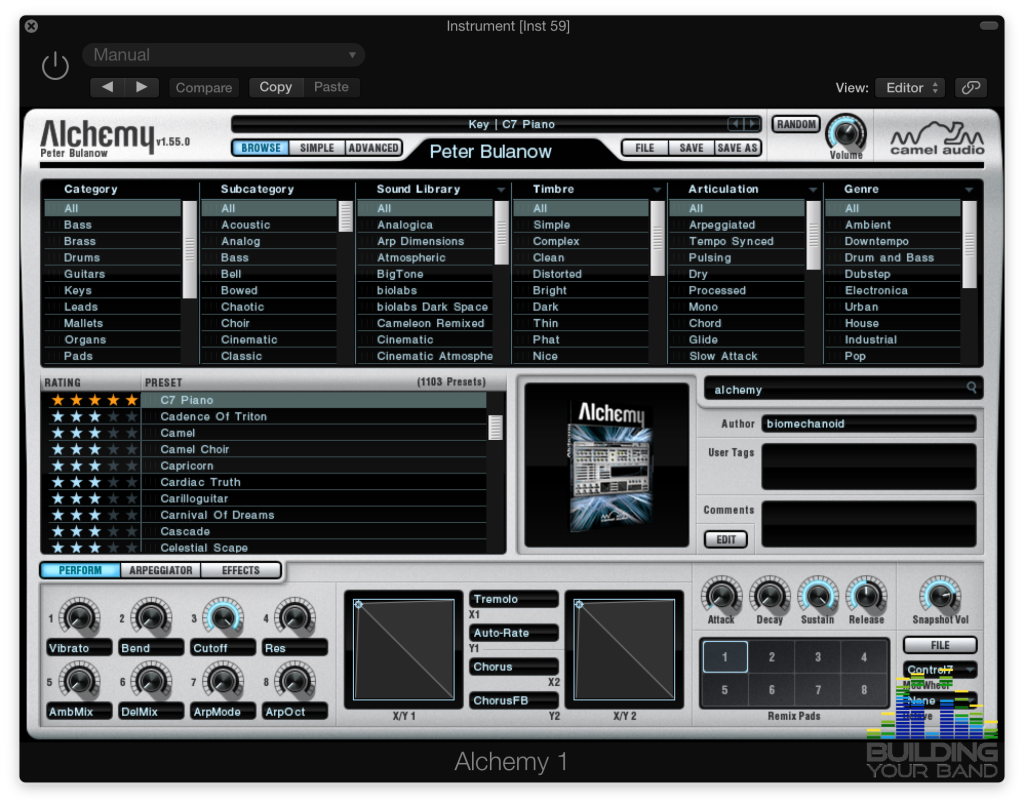 A couple key points to understanding this display:
To the right of the Alchemy Logotype there are three buttons: "Browse, Simple, and Advance" indicating three modes for interacting with the synth. The default mode (highlighted in blue) is "Browse" (pictured above), the purpose of which is to help with finding the right sound. This is typically the start of the keyboardist's workflow.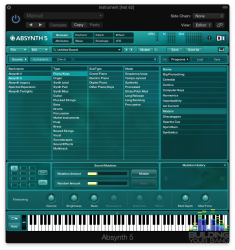 Today's keyboard workstations and softsynths usually have hundreds, if not thousands, of sounds on board. Indeed, Camel Alchemy shipped with 5GB of samples and over 1,000 sounds. With this many sounds it became possible to spend hours or even days searching for sounds and not actually doing any music (I'm not making this up. This was discussed in Keyboard magazine, and I was guilty of it myself!). Thus navigating and finding the right sound is a problem of significant importance. Camel Audio thoughtfully approached this issue by tagging all their sounds and letting the user select (top row) various categories, genres, or sound types to filter results (second row) displayed as sound names. I don't know if Camel Audio was the first to use this tag/filter approach to find sounds (e.g. legendary heavyweight Absynth also does this, at right), but this approach works extremely well. Additionally, when selected, Alchemy displays a graphic of the sound library where the sound came from, a shout-out to the author, and a place to save user tags and user comments as well. Finally, Alchemy uses a five-star rating system for each sound (again, very apple-ey) with the default value set to three stars, which I find useful.
The third row exposes some rapid sound editing parameters as well as some macro sound editing parameters that are among the best implementation of these ideas that I've seen. First, there are two X/Y "joystick" controllers connected to a variety of parameters. Although this approach is not without precedent, it's a useful one. One of the most compelling and original features of Alchemy is the eight zones in the bottom right. With a mouse or other X-Y controller(s) you can move around in this area and smoothly fade from one set of parameters to another. Getting a keyboard to change parameters without glitching (or typically "zipping") while playing notes is, I-don't-know-how-to-put-this-but-kind-of-a-big-deal, and is essential to the "playability" of the synth. Using these eight zones in real time facilitate playing the parameters themselves, modifying the timbre, adding depth to the sound.
Alchemy Today
Now that we have looked at Legacy Alchemy, let's see what Apple did to the front panel, while in the same default browse mode: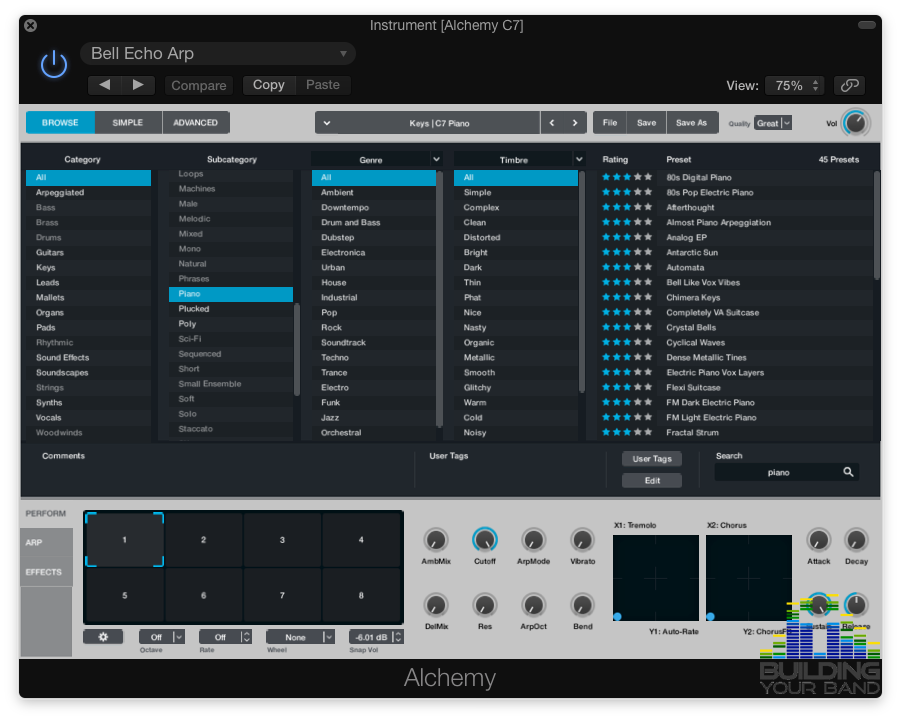 Clean. Familiar. Somehow bigger. I really like it. They didn't mess it up. Basically everything is intact. That's a lot of restraint on Apple's part.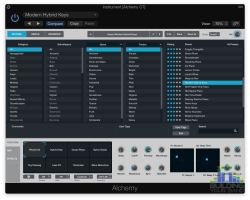 The only addition I see is that in some sounds (not a majority though), there are labels written in the eight zones instead of just numbering them (see right). This could be helpful to remind you what that zone sounds like, or to help you to avoid a zone. Typically I like about five of the eight zones and really want to avoid one or two.
The thing that I see missing is a little graphic and credit to the author of the sound bank that the sound comes from, but that was probably more important in the past and not relevant to Apple's business model, as we will see. The user tags and comments area remain intact, as does the five star rating with the default set at three stars. It's really interesting to me that Apple kept the default at a three star rating, since they also use a five star system in iTunes and iPhoto, but the default there is no stars. This is a little non-standard for Apple.
---
Let's look at the simple mode from the Legacy synth:
This mode assumes you've found your sound and want to save screen real estate. It has just the real-time performance parameters on it you need to leverage this synth.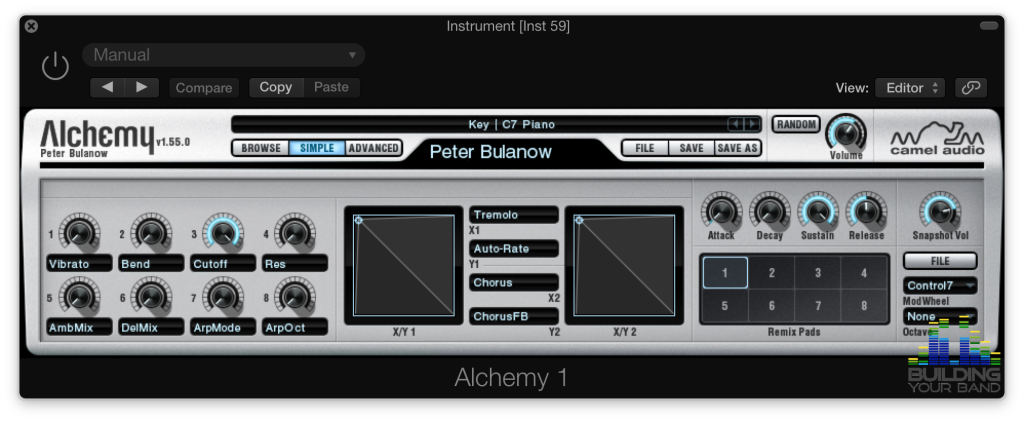 OK, Apple's take: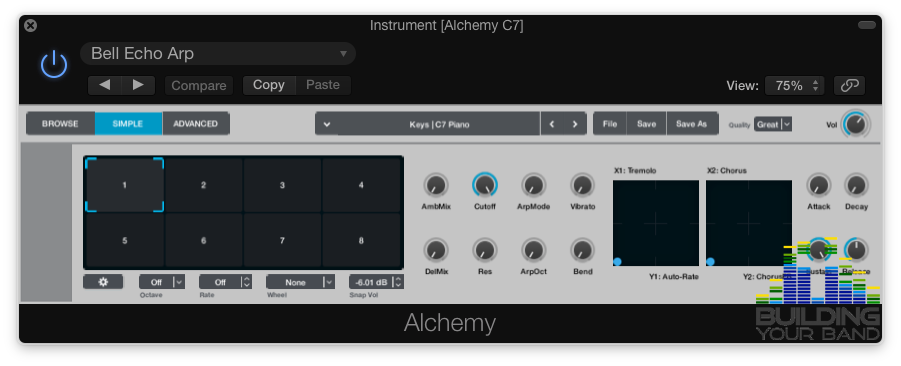 Once again, everything is intact. Just a much cleaner more logical design – better in every way.
The design has less skeuomorphic cues – the graduations on the buttons and the diagonals on the joystick are gone – although the metaphor of buttons, knobs and zones remain intact for keyboardists who may actually map these parameters to real-world physical interfaces (I certainly have/do).
---
Let's take a look at the Advanced Mode, meant to expose all the parameters to the no-kidding sound-programmers and sound-tweakers out there (as modifying the default sounds, if only a little, is a must for any "legit" keyboardist).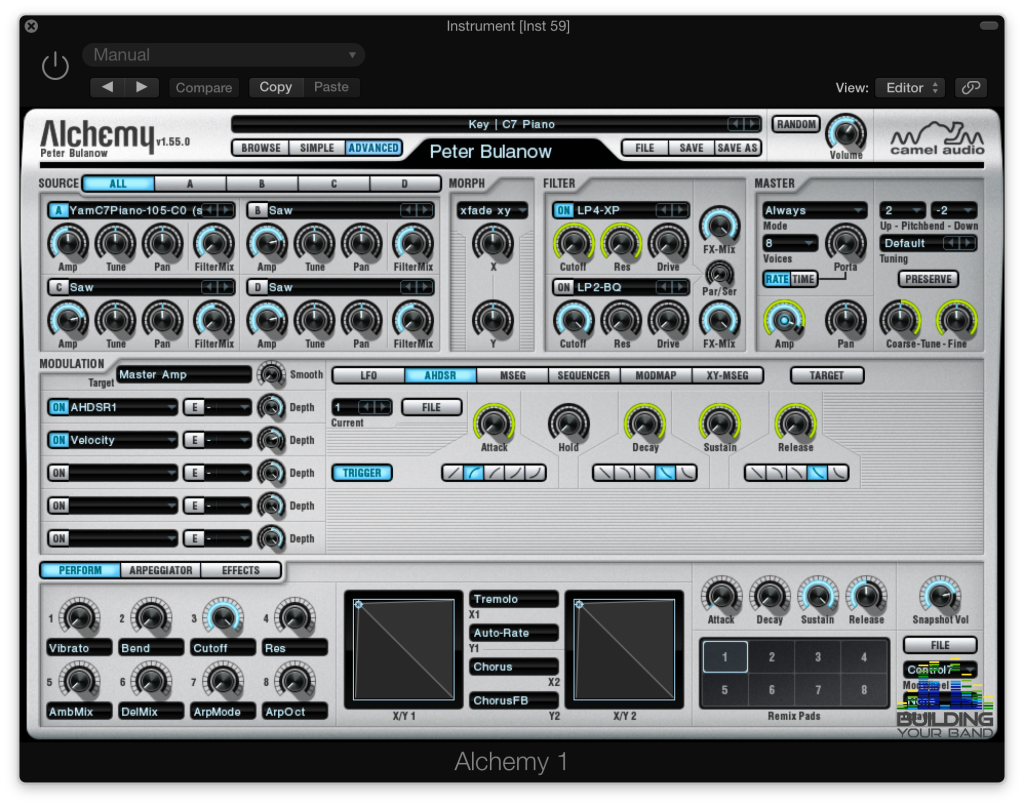 Lots of skeuomorphic textures and indentations are present, as well as recessed areas to group controls.
Ok, Apple's redesign: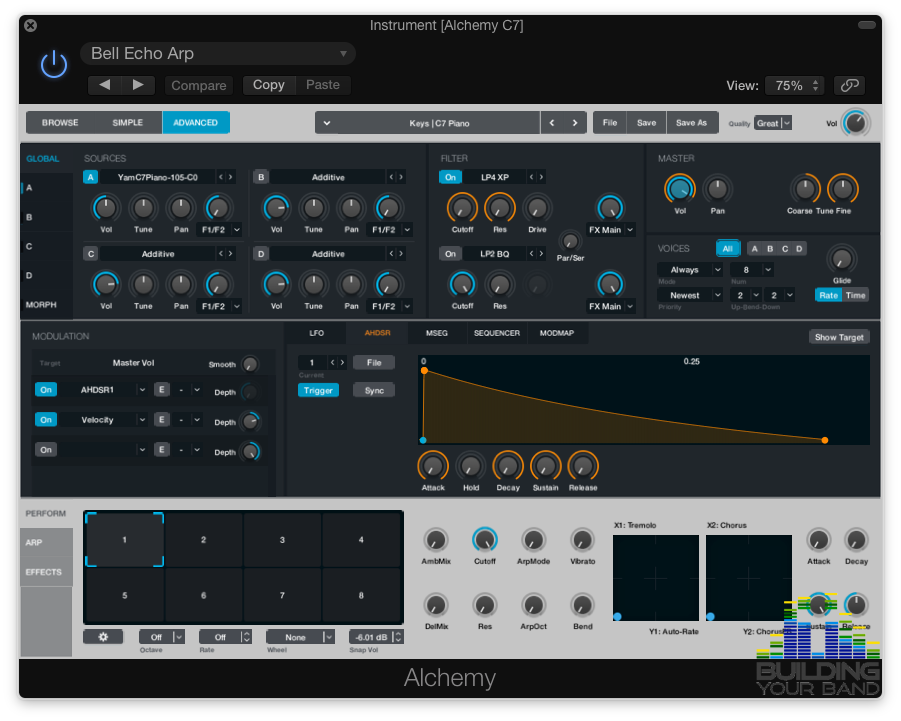 Again, this design is better in every way. Perhaps the most obvious improvement is actually drawing out (in ORANGE!) the "Attack, Decay, Sustain, Release" or ADSR loudness envelope that each note pressed on a keyboard will follow. Seeing this makes me wonder why on earth this wasn't done in the original version; it's that obvious of an oversight in past versions.
This is the only place we see this color of orange. Before this, blue was the accent color over a greyscale panel. Here a new color is introduced, and it's used to map any control that may impact the note envelope (e.g. other gain controls). It's a bit unusual to see a color in only one place, kind of like a font used only once, but in my opinion the use of a new color is warranted because the envelope is a singularly critical part of the sound, and there are a handful of parameters that impact it. Designating those with this new color adds clarity.
Upgrade Summary

As a lover of this synth who is emotionally invested in it's ongoing success, I really am relieved to see it lives again, wasn't destroyed, wasn't "simplified" into a consumer product, didn't have its paradigm changed (e.g. FCP), still looks familiar, and quite honestly is looking better than ever.
The sound (timbre) of the current release is exactly the same as the legacy version. It's fun to see all the knobs in all the same positions making the same sounds, but with a flatter (there I said it) user interface.
I would be surprised if there is a single keyboardist out there who wouldn't clearly view this as an improvement.
---
Dollars and Sounds
When Camel Audio sold this synth, it went for $249 US and it came with a nice default set of samples and sounds (5GB of samples and over 1,000 sounds). But that default set of sounds could be expanded with additional libraries of sounds that Camel Audio continued developing (at ~ $59 each). This kept the synth fresh and relevant to whatever genres you were currently exploring, and kept funds flowing in to Camel.
This is a business model that Apple could have followed, but discarded. It appears to me that all or many of the sound libraries are included for free in the current version of Alchemy, which again, costs the consumer nothing. It's just a free update. Apple's version of Alchemy comes with 3,000 thousands. and 14 GB of content, if you download it all. These are probably the best of all the expansion libraries, which when bundled was an $850 synth.
Apple likely didn't drop "Apple Money" to purchase this synth, but they dropped some significant coin on a well-researched fit to serve both MainStage and Logic. By well-researched I mean, there are a lot of softsynths out there that put an extensive load on your CPU. That's fine in the studio with Logic where it is OK to render out a complex softsynth part in even longer than real time and "freeze" that audio rendered out. But MainStage is a different application. It needs sound to be computed in real-time (typically < 10ms), so anything it can't compute in that period of time means clicks, glitches, noise, and hung notes, none of which is tolerable. Alchemy serves the interests of both MainStage and Logic, because it has so much sonic goodness and is light on the CPU.
Apple knew what they were doing. They took a great product, and made multiple products better – and significantly so (it's even in GarageBand). Honestly, I'm both floored and relieved by this. In my mind, this is a textbook example of an acquisition done right.
★★★★★ for the Alchemy team.
---
Strategic Analysis
If Gruber has taught us anything, it's that Apple's priorities are #1) Apple, #2) the consumer and #3) developers, in that order. So let's take a look at how these priorities align and guess some of the reasons behind this acquisition.
This is an obvious win for MainStage, which is now a simply breathtaking deal at $30. You could spend a grand or two for a hardware synth and not be this sonically flexible or ugpradable. But with that money, purchasing Apple hardware starts making sense. So Apple might actually win some new hardware purchases, while the consumer would seem to be assured that Apple wants to continue to be the platform of choice for music production.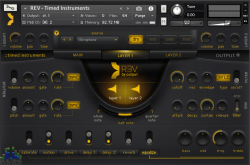 Developers can still develop synths for MainStage, but they better up their game. Heavyweights Native Instruments and Spectrosonics are competitive, but they can also bring a Macbook Pro to its knees in a live environment. You're going to have to be out-of-the-box, someone like recent upstart Output with "reversed" or "pulsed" sounds (see right) to have something to say these days. I don't know how you would go head to head with Alchemy.
The more I think though, MainStage might just be the "free candy" to get you hooked on Alchemy, so you have one more reason to buy into Logic. My DAW of choice is currently Cubase, and the more I think about it, I may also be their target audience.
Previously, a DAW might cost $700 new. Those prices have come down, Sternberg Cubase now goes for $550 and Cakewalk Sonar is $500. But Apple shook things up once they lowered the price of Logic to just $199 back in 2011. That is the price of an upgrade in Cubase! Additionally I've heard good things about the quality of Logic's onboard effects, giving you less of a reason to spend money on 3d party software (I've spent thousands on Waves on reverbs and compressors!). With Alchemy included in Logic, sequestered away from the other DAWs, there is another compelling reason to make the move to Logic. If you're a developer, I don't know how you stay competitive at these prices. You're going to have to think differently about the studio space (e.g. Ableton Live or Propellerhead's Reason), or offer extremely high-end solutions (e.g. Protools), and those alternatives exist. But I think Apple wants to own the traditional MIDI-studio DAW space, and with their quality/cost it will be very hard to compete in this space.
I think this acquisition did two things. First it increased the value of the Apple platform for pro music, which is good news for everyone: Apple, Consumers and Developers. Secondly, I think Apple is playing chess with DAWs, and this is another attempt at a checkmate.
So you don't have MainStage what are you waiting for? And if you'll excuse me I'm off to buy Logic.