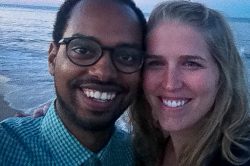 Sarah talks about her origins playing and singing in Venezuela, to leading a band at an intentional multicultural church in Harrisburg, PA. She's one of the few worship leaders I know who stepped out from behind the comfort of an instrument to lead worship with just a mic in order to more closely connect with her audience.
Sarah on Facebook | Harrisburg Brethren in Christ Church
Post we discussed regarding having/being a focal point: "Is there, like, a specific place I'm supposed to be looking?"
Zion Acoustic Sessions:  Amazon | iTunes
Evan Craft & Carley Redpath – "Océanos":  Amazon | iTunes
While we're here – the making of Oceans
p.s. If you're listening to this from South America, and would like to be a guest on this podcast, please contact me!