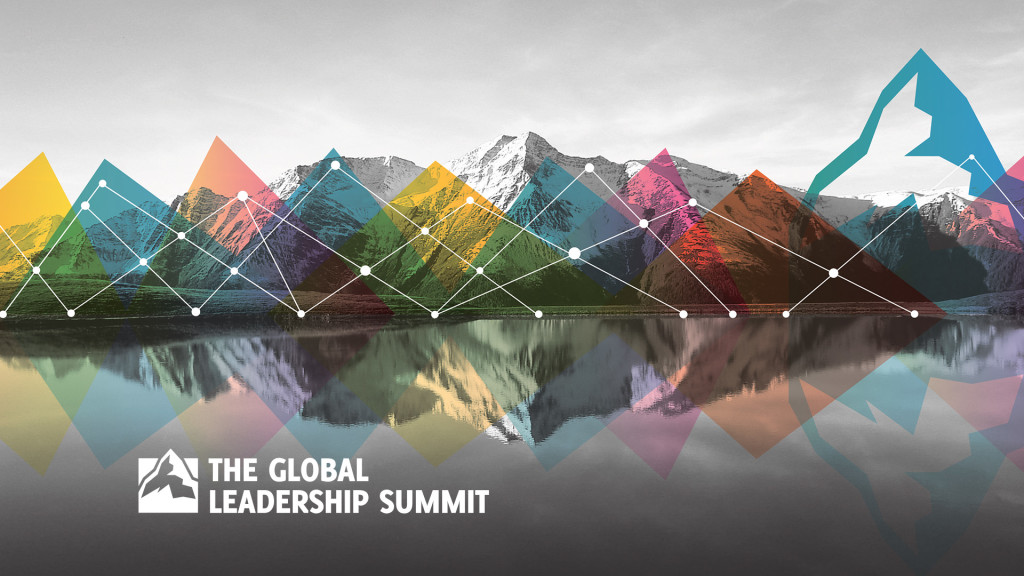 Recently we had the opportunity to play music live for a remote Global Leadership Summit event (ours was in Jamaica).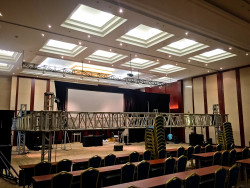 When we arrived, the stage was being built (right) and preparations had been made for a high quality rear projection screen, but there was no stage design for the band. We were only told we needed to stay out of line-of-site of the screen. This of course makes sense; the video presentation needs to be center stage, as it's the main event and the band needs to work around that. However, with the particular stage geometry we were presented with, that was difficult, and sub-optimal. My sense is, there are ways to do this that are better than others. Perhaps Willow Creek has published some best practices and I just haven't seen them, but in their absence, I thought I would offer some thoughts to get this conversation started.
Let's start with the guidance that Willow offers (page 3):
Video Screen Philosophy

A single big, bright center screen is nearly always critical in the success of the Global Leadership Summit. Even the most sophisticated churches and conference rooms do not typically have the type of installed projection equipment required to keep the audience's focus for two entire days (with nearly all of the content being presented by video).

Remember to place the screen as far downstage as possible—while still giving you room for the band, vocalists, facilitator or host. Placing the screen too far upstage will put too much space between the on-screen speaker and your audience.

Keeping the screen as close to the audience as possible will also result in a larger apparent screen size.
So there is a lot of good guidance here.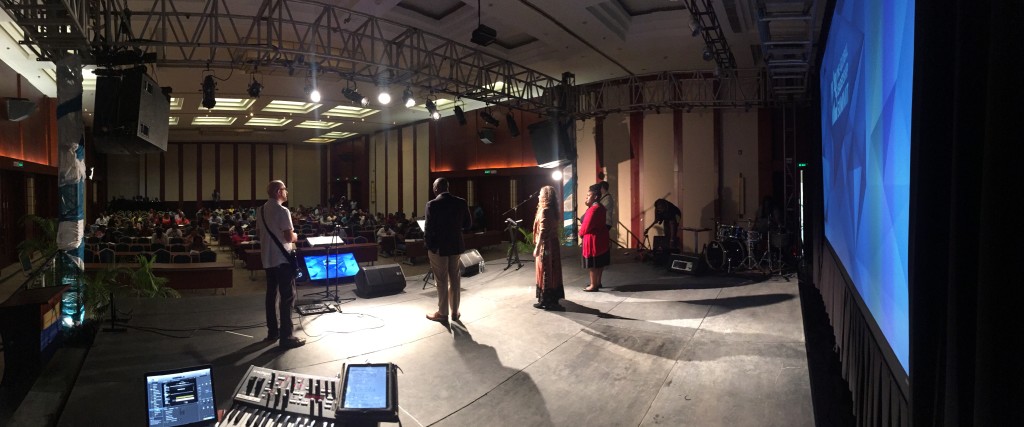 The way our stage was designed, it was difficult for the band to work effectively and connect with the congregation. We had a very deep stage which forced the band to the back to preserve line-of-sight to the projector. This resulted in much of the stage going unused and did not place either the screen or the band "as close to the audience as possible".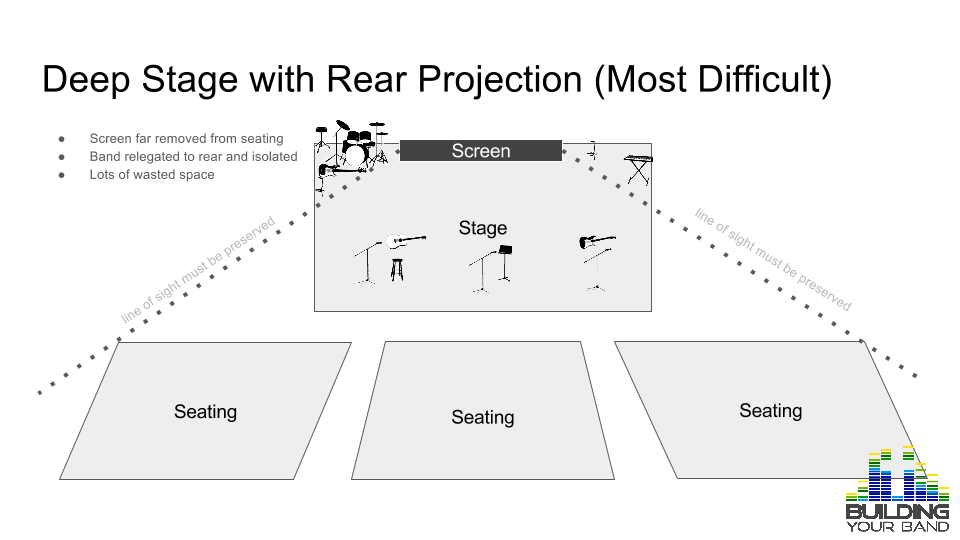 ---
A shallow stage would be a much better option (below). This would allow a rear-projection screen to be much closer to the audience, and the presence of the band would be greatly improved.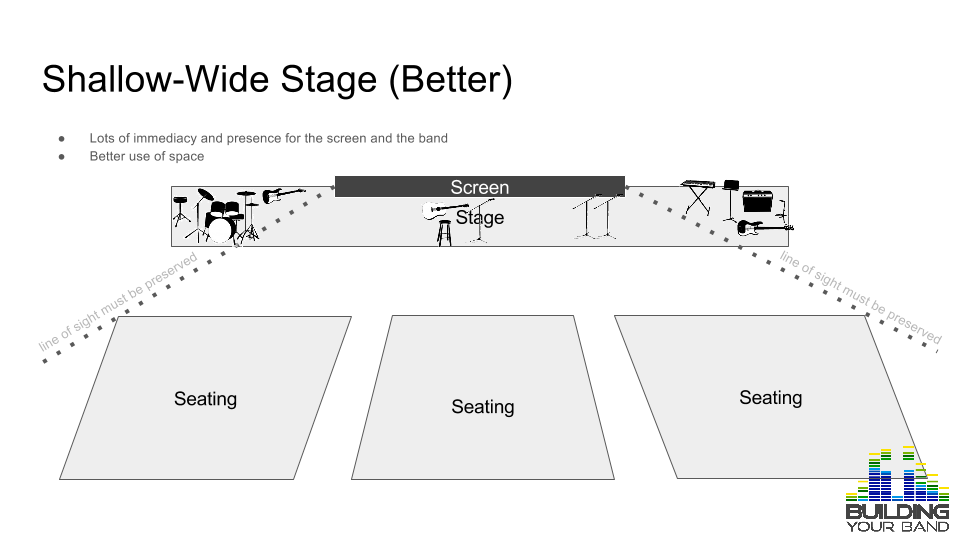 ---
Even better would be putting the screen in front of the band (below). This would of course require front projection and a retractable screen. It would offer a flawless transition in and out of music. The screen could be partially dropped to display the top line of lyrics.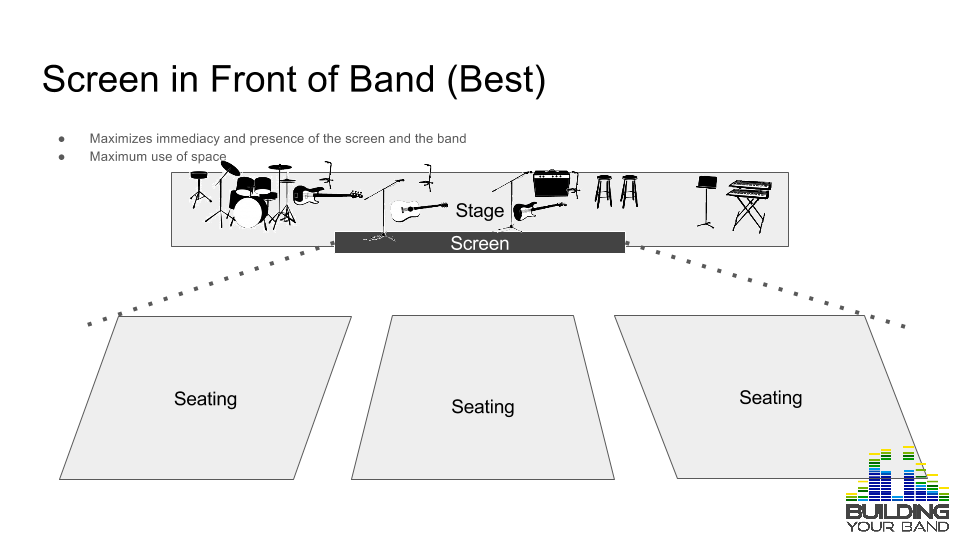 ---
A traditional stage design would be most comfortable to the band, to include putting the drums and bass, and possibly even the keyboardist on risers (as below). This could again be accomplished with a front-screen projection and a retractable screen.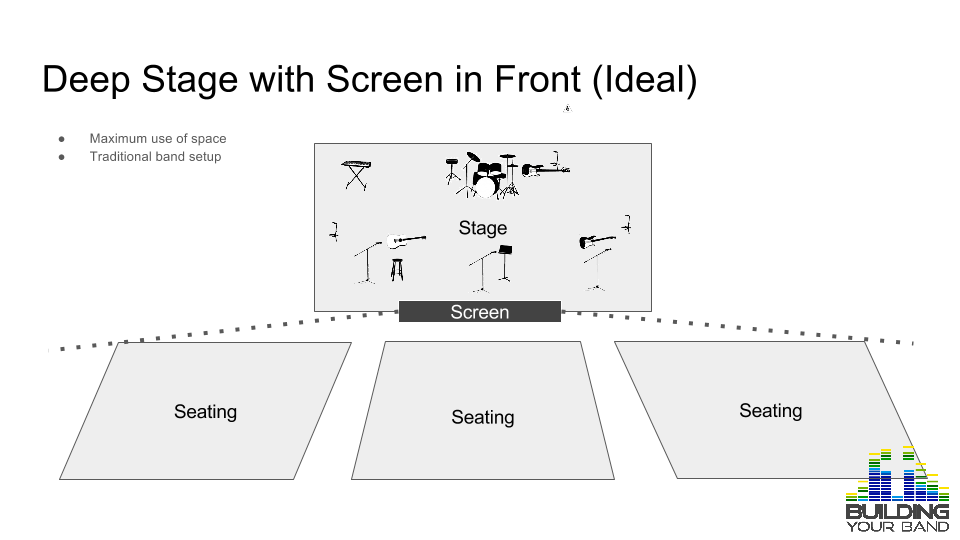 If you have any experience with playing / hosting a remote GLS, I'd love to have you chime in with your thoughts about what works and what doesn't work. Here are my google slides, which you are free to use, and improve upon! I'll happily grant you access to edit them as well (upon request). If there are other ideas I missed, or some detail I overlooked, please contact me with that information,  and I will update this post, or just leave a comment below.
Thanks!