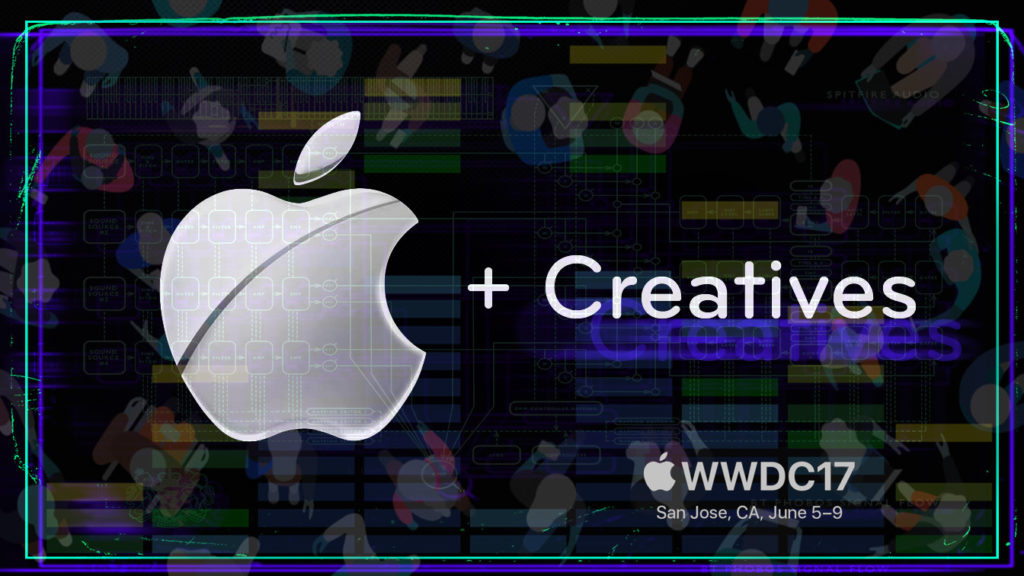 If you're a creative, you probably have an eye for Apple's design and you understand computing at the intersection of technology and the humanities. The last few years, we've seen quite a few signs that Apple is focusing heavily on consumers (not necessarily a bad thing) and missing signs that they're focusing on professionals (could be problematic). While it might make good economic sense to focus on consumers, this strategy is worrisome from an overall creative-ecosystem perspective. After all, if Apple doesn't provide professional grade hardware and software for creative professionals, where will those media products come from? At Apple's 2017 WWDC (World Wide Developer Conference), we were given our first tangible proof that Apple has not lost their way, wants to support creative professionals, and wants to do so in a big way. But before we get to that, let's first briefly review the dark ages we've been living in for the past few years.
First, let's look at their professional software. Way back in 2002, Apple acquired Logic from Emagic. Although Apple didn't quite turn it into garage band (very consumer-ey software), Logic has clearly lost stock from its position as the preeminent audio-sequencer. Similarly, Apple acquired Final Cut Pro from Macromedia, and in 2011 transformed into something a lot more like iMovie with their Final Cut Pro X release, which lost many pro features in place of a slicker interface and has been slow to recover them. Finally, Apple created Aperture for doing professional post production on RAW images, similar to Adobe's Lightroom; however, support for Aperture halted altogether. MainStage remains a gift to keyboardists (particularly given Apple's acquisition and inclusion of Alchemy soft synth in MainStage) as well as to guitarists, although this one application has been looking like an outlier in Apple's professional portfolio.
Their hardware has been telling a similar story of support for consumers with few real pro-level capabilities. The MacBook Pro I'm typing on, a Mid 2015 top of the line model purchased at the start of 2017, has the most RAM available at just 16 GB. The reasons for this seem to point back to a lack of low-power RAM support at larger capacities. High-power RAM could be used, but that would impact heat dissipation and ultimately,"thin-ness," by making the machine thicker.  Which is exactly the point: many pros would gladly trade 32 GB or 64 GB of RAM for a hit to battery life and thinness, but that's not how Apple rolls. Apple's latest innovation – the Macbook Pro – featuring a touch bar in place of the function keys, adds $800 to the bottom line, but doesn't offer a faster machine or more RAM. So what we have are machines not getting speed or capacity bumps, but rather a very cool and tone-deaf touch bar in its place. Worse still, their halo machine, the Mac Pro, has not been updated for over 1000 days but is still for sale at the same price. Here is a really good summary of the state of Apple in 2016.
---
In April 2017, Apple called in five journalists for a face-to-face meeting. When Apple calls you, you come. It's a fascinating story, and John Gruber called it that this meeting must be about the Mac Pro. I.e. either Apple was going to discontinue it, or they were going to support it, but not have anything ready to show in the near future e.g. the 2017 WWDC.
So the short of the story is that Apple had painted themselves into a thermal corner with their innovative "garbage can" design of the Mac Pro. Apple had banked on two smaller size GPUs plus one CPU, while the industry went with one larger size GPU plus one CPU. With that mistake acknowledged, we now know we have Mac Pros coming – not in 2017- but they're coming.
That's all we had to work with until the 2017 WWDC on June 5th. Tim Cook said this was going to be the best WWDC ever, and now that it's all over, it's hard to call him a liar.
The bottom line is that we creatives are now in great shape. The iPad Pros are looking more and more focused on doing real professional / productive work with iOS 11. More importantly, the Macbook Pros and iMacs look fantastic. Both now have the option for 32 or 64 GB of RAM, meaning either machine is dialed in for the kind of work we do. Given that Mac Pros are coming, it looks like we will have a fantastic roundup of machines to serve our creative needs.
But wait, there's more! We also have an iMac Pro coming in December, featuring 8, 10 or 18 core Xeon processors and up to 128 GB of RAM with improved 5K displays and the ability to drive additional monitors. These machines are incredible, and it's exciting that Apple is aware that creatives have been falling in love with their iMac's due to its integrated design and significant capabilities. My dream machine might be a bottom of the line iMac Pro (partially because they will come in space gray), and I wonder if even that would be overkill. I'd probably have to invest in several thousand dollars in instruments and effects and need to score a feature length movie to tax that machine (which I'm quite pleased to do with proper funding… anyone?). These are the kinds of machines that developers, pro video folks, and physicists need. That these machines exist, and that Mac Pros are still coming, is proof that we have so much more excellence to look forward to.
This interview hosted by John Gruber with beloved Apple Execs Phil Schiller and Craig Federighi AKA Hair-Force One, offers a very insightful review of the "State of Apple" and support for pro creatives. I highly recommend it.
The Talk Show Live From WWDC 2017 from John Gruber on Vimeo.