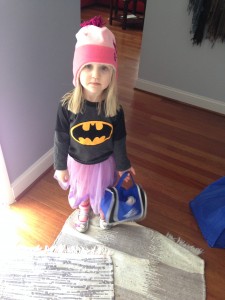 Two moments I will never forget are: 1) when I saw my wife dressed in white at the end of the aisle, and 2) when the hospital told us we could take our newborn daughter home. I don't know what I was expecting, but walking out of that hospital and placing my tiny daughter into her car seat was at once terrifying and wonderful. Four years have passed, and I am overwhelmed by the privilege of being a daddy (to the tutu girl in the batman shirt).
One thing that changed when my daughter Nyah was born is that I struggled to find the time to play music live. I love playing live. Let me back up: I love sound. And I love creating something in the moment, something ephemeral, informed by the Spirit. Something that can only be experienced once (so I hope you were there last Sunday!)
Ever since Nyah was born on July 3rd, 2010, I stopped playing out. And we've added a son to our family now as well, so my time is even more in demand with these amazing souls now present in my life. Life is beautiful and full, yet I've missed playing out. I've missed producing. Sound is an important part of my life, and so this is my effort to stay connected to producing, to playing, to sound, to connecting with that conversation and that community. Maybe it's fitting, then, that this blog's birthday is July 3rd – the birthdate of my first child, and all the posts will go out at 2:14am Eastern, the minute of her birth.